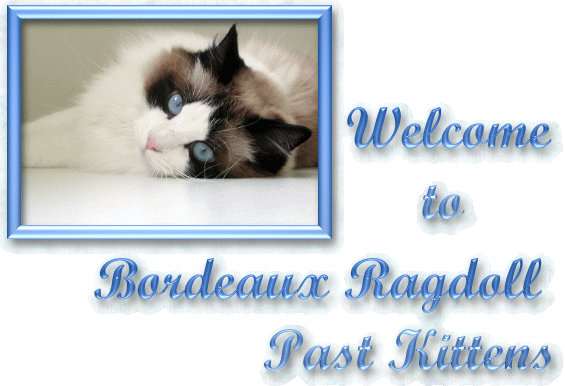 Bordeaux's Gabrielle Chanel
seal bicolor female

A Lovely Baby; lovingly owned by John Weichsel and Lou Magilavy of Celebration, Florida. Gabrielle Chanel is pictured above in my logo as an adult! What a stunning young lady she is now!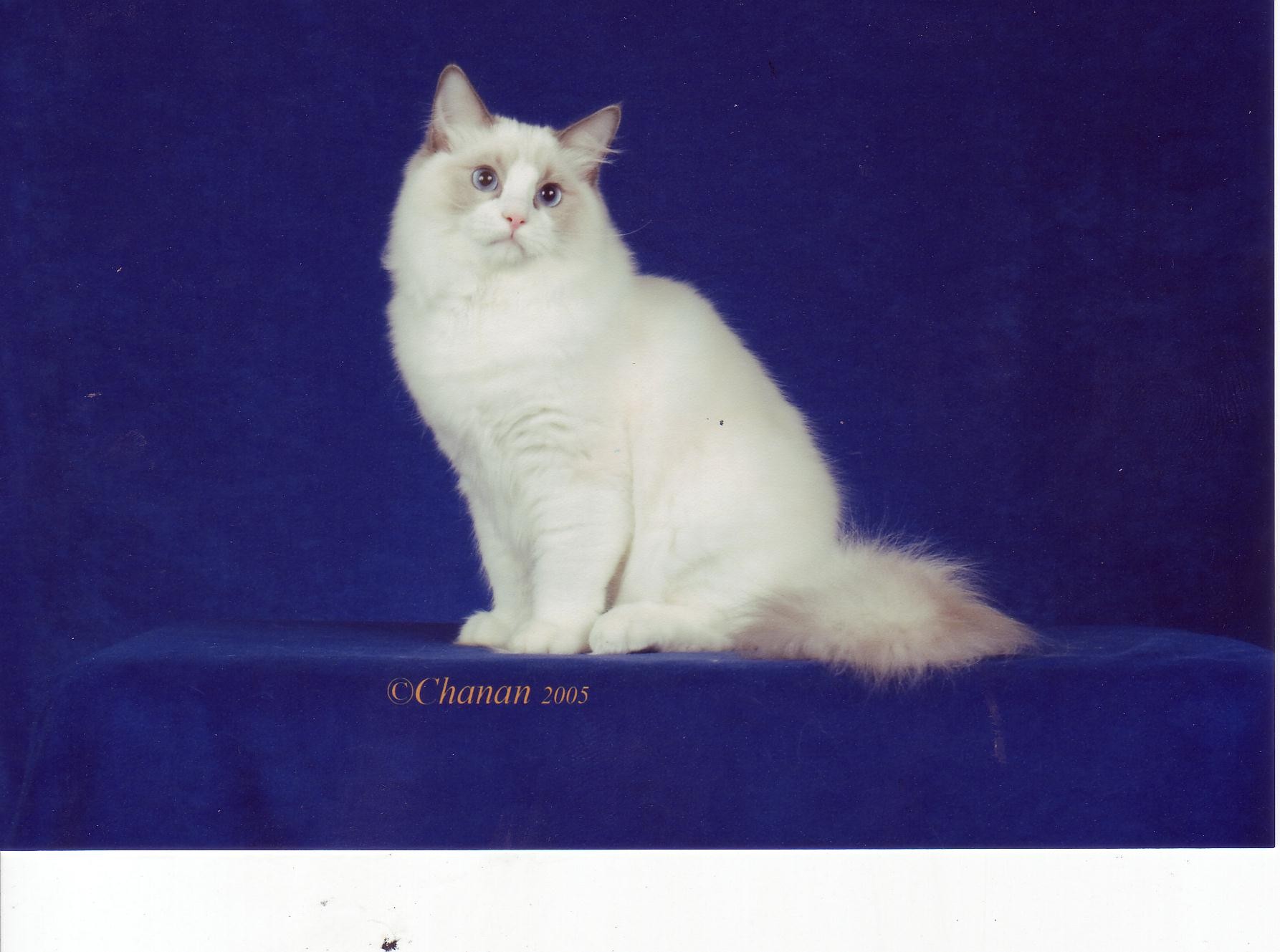 ON FAR RIGHT: Grand Champion Risky Bizness' son: CFA Grand Premier Bordeaux LTD's Just XTC Bizness ("TC"), a beautiful blue bicolor male alter out of Grand Champion Risky Bizness and Champion Jinglebell; TC has gone to live with Frank & Viola Toldo in The Villages, FL.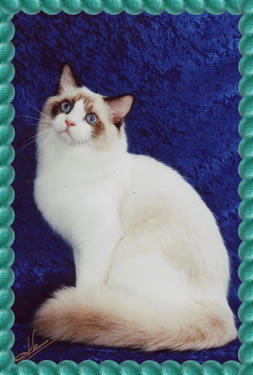 TO RIGHT: CFA Grand Champion Desperado's first son with Champion Jazzmyn (CFA Grand Champion Bordeaux's Just Chase 'N Dreams), a handsome seal bicolor male; owned by Laura & Nick Lawrence in Texas!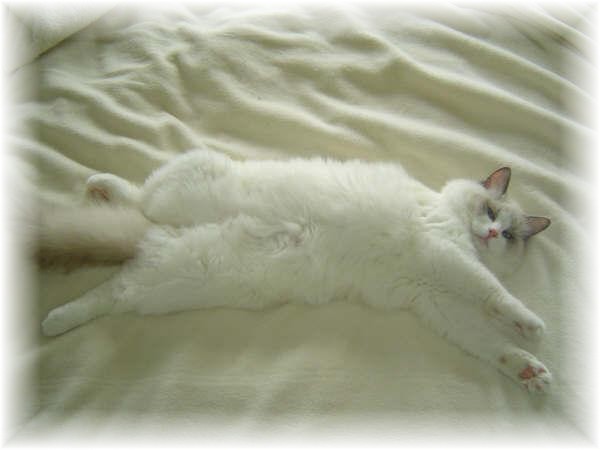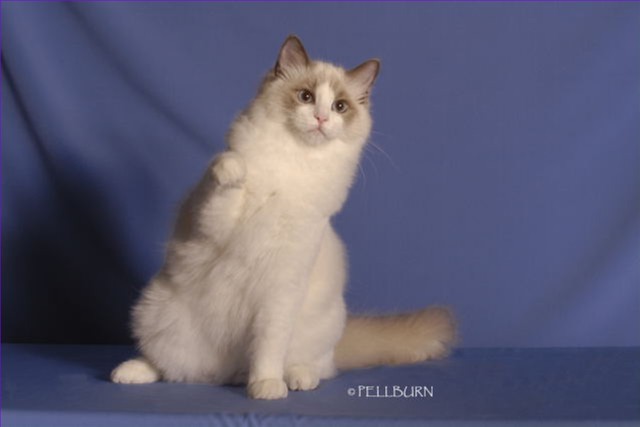 ABOVE: Bordeaux's Just A Pretty Penny ("Mia"); a lovely blue bicolor girl by Anabelle and Justin; now lovingly owned by Karina Sanchez and her husband. Thank you Karina for showing Tommy to his CFA Grand Premier title (he is also a CFA Grand Champion; my first dual titled Grand) and Mia and providing them with such a wonderful home!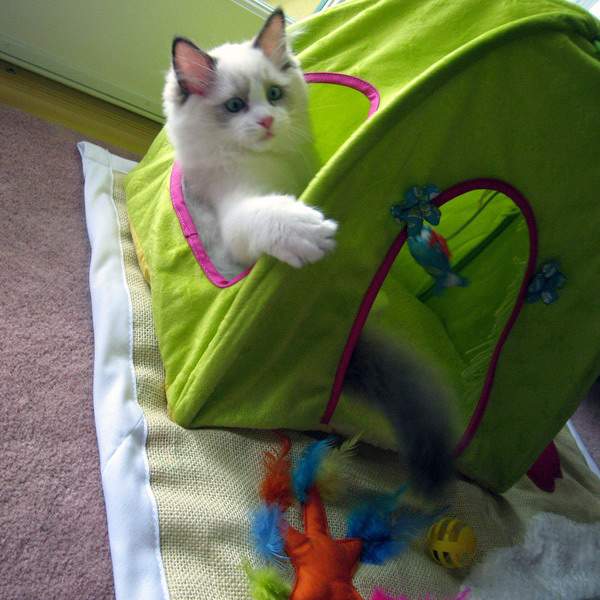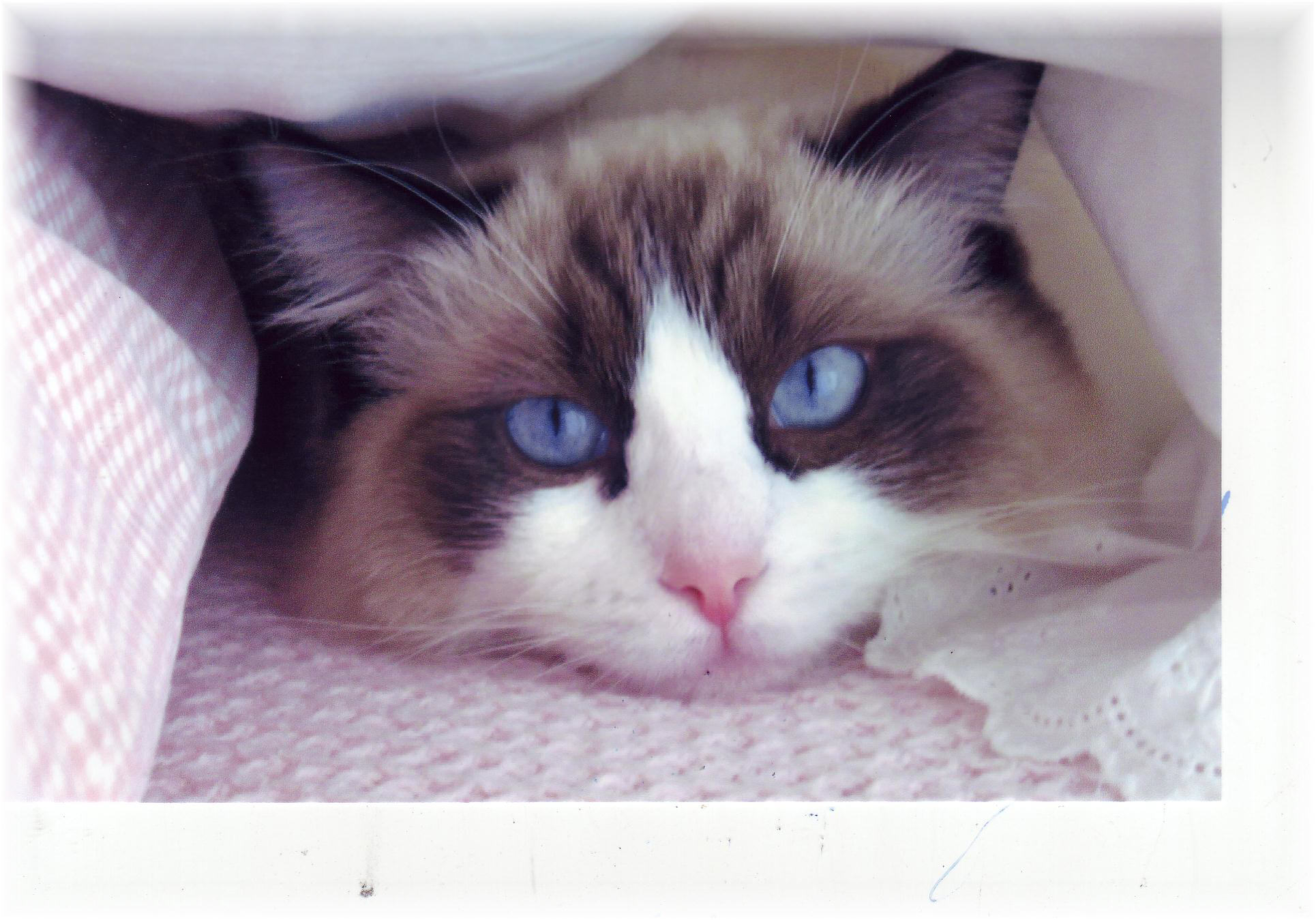 ABOVE: Bella: A Beautiful seal bicolor girl by Champion Bordeaux LTD's Sunshine Sensation ("Baby") and Grand Champion Desperado lovingly owned by Carol Strongin of Miami, FL. On the Left as a Baby and a little more grown up on the right. What a beautiful girl!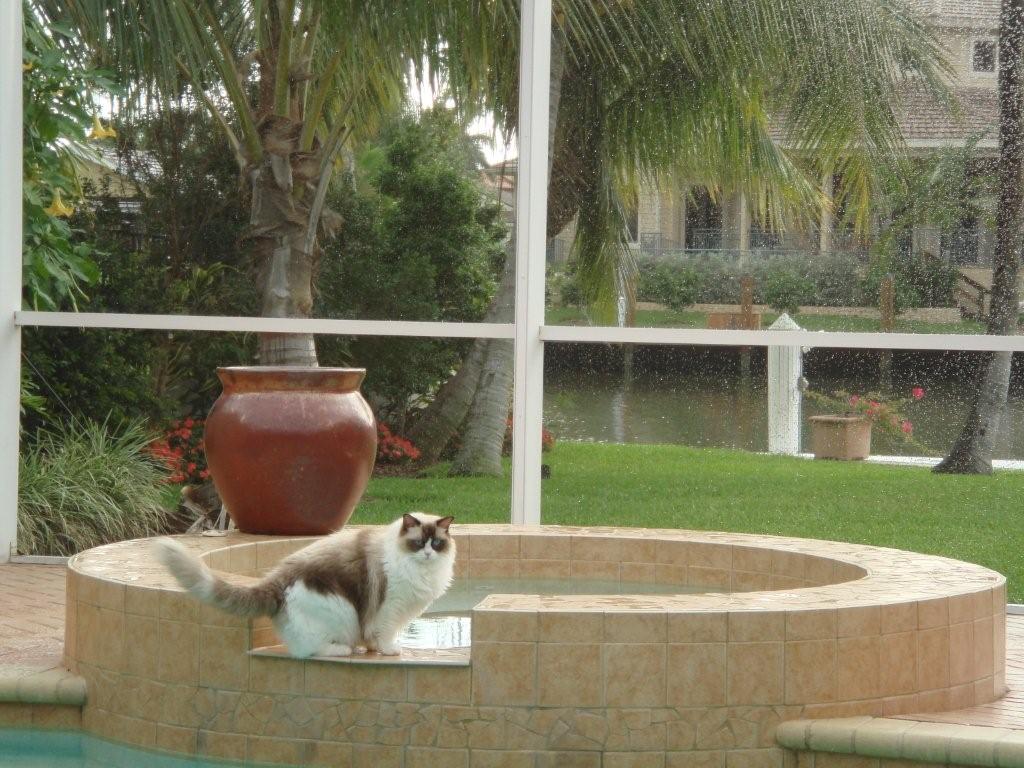 ON LEFT: "Rex" (Don't Jump In Rex), a beautiful Champion Miss Monique and Grand Champion Risky Bizness son; lovingly owned by Ed Petras of Naples, Florida!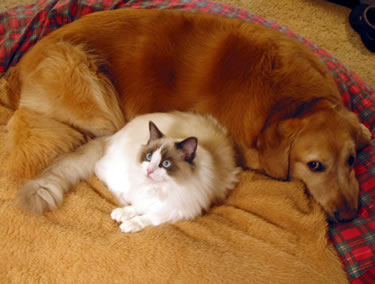 ON LEFT: "Beamer," a Perfectly Marked Blue Bicolor Male by Silhouette and Geno Lovingly; Owned By the Mahafey's in Pennsylvania!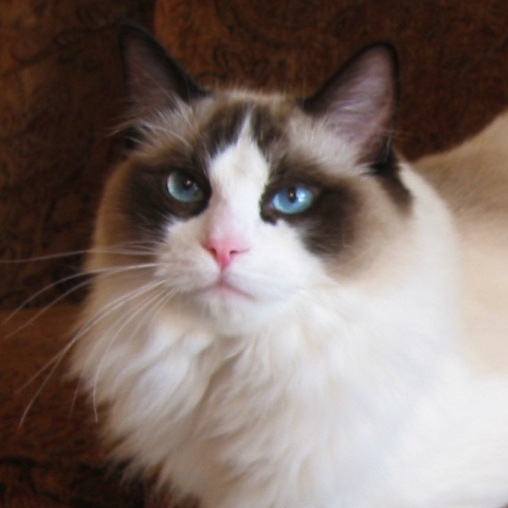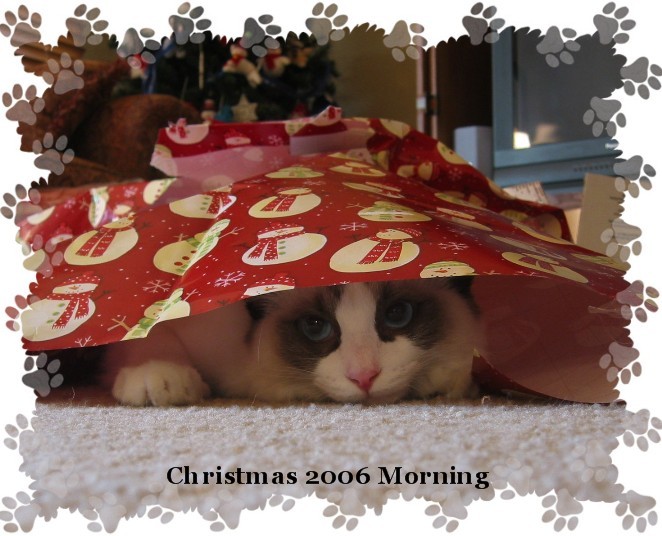 ABOVE: A beautiful, seal bicolor family boy by Grand Champion Risky Bizness and Champion Jazzmyn; Beau is lovingly owned by Sheila Haughn and her husband in Ponca City, OK.
ON LEFT: "Snuffy", a beautiful Champion Bordeaux's U-R-My Sunshine and Grand Champion Risky Bizness son; he looks just like his dad; lovingly owned by Tomy Mosca and his family!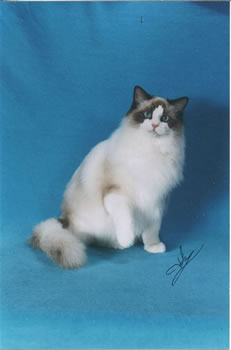 ON LEFT: CFA Grand Premier Bordeaux's Dr. Feedgood ("Doc"), lovingly owned by the Pennybaker's in Florida!
ON LEFT: "Hemi" A beautiful seal bicolor boy by Desperado and Baby; lovingly owned by Nancy Cooper of Tarpon Springs, Florida!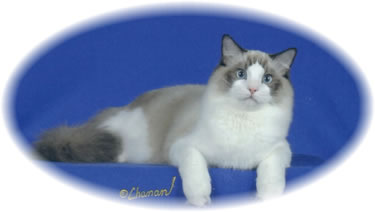 ON LEFT: CFA Grand Champion Darlinlildol's Dare 'N Desperado (Desi has produced Five Grand Champions for Us). Desi was Best Ragdoll Kitten in CFA in Southern Region for 2004, and has now retired from our breeding program to live in Ft. Lauderdale as a family pet with Jessica!!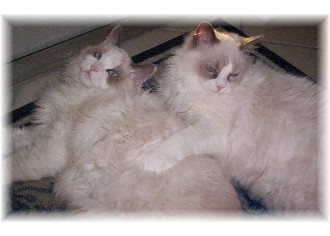 RIGHT: Two beautiful blue bicolor sisters (Jezabel and Serina) by Grand Champion Geno and Chrissy; lovingly owned by Dalia Medina of Seminole, FL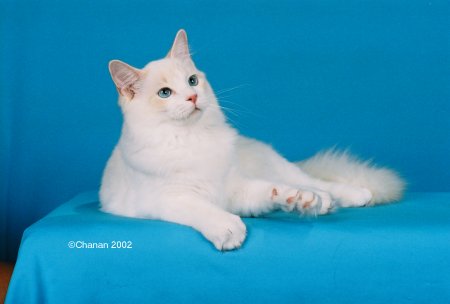 A Cream Lynx Bicolor Male Lovingly Owned By Charlotte Meade - CFA Grand Premier & ACFA Alter Grand Champion (TICA Champion) "Bordeaux's Bodacious Fire 'N Ice"! Congratulations Charlotte - Great Job!!!! Bo Second Best Ragdoll Grand Premier in CFA in the Southern Region - 2003!
We have Beautiful Babies Available to Loving Homes!
We are so Proud of Our 27 CFA Grand Champions that are all home-bred, with some gorgeous girls and boys waiting in the wings waiting to work on their titles!!
A Seal Bicolor Male; First Florida CFA Grand Premier/ACFA Champion Sage of Bordeaux ("Baby Sage"); Lovingly Owned by His Breeder, Liz Thurman; My Very Special Baby!

ON LEFT: CFA Grand Premier Bordeaux's Kash 'N Karry, a Blue Bicolor Male Owned by the Galls in Virginia by Chrissy/Geno! Thank you to the Gall Family for showing this beautiful boy! 2005 Show Season: 3rd Best Premier Ragdoll in the Southern Region!

Above : Blue bicolor male - CFA Grand Premier "Bordeaux's Blue Suede Shoos"
lovingly owned by Michelle Clark (my wonderful cat babysitter) - A Geno son by Just A Joy (Bay Sage and Justin's Sister)

My 13th Grand Champion: CFA Grand Champion Bordeaux's Makin Bizness, ("Szar"), a gorgeous seal bicolor male owned by Janice Shehan (Eliterags) of Taneytown, MD.

A CFA Grand Champion Risky Bizness/Jinglebell son! Thank you Janice for your confidence in my breeding program!
Two Beautiful Geno Babies By Silhouette and Chrissy - Tival and Shana Lovingly Owned by Norm & Linda Lipson of Sarasota, Florida!
CFA Grand Champion Risky Bizness's first son (CFA Grand Champion Bordeaux's Risky Affair ("RB"); a seal bicolor male lovingly owned by Bob & Leslie Robbins in Las Cruces, New Mexico. Thank you Leslie and Bob for allowing me the opportunity to grand RB -- our 11th home-bred CFA Grand Champion!
Mommy Needs to Buy Me A Bigger Bowl! Shana, a Geno/Silhouette Baby, Lovingly Owned by Norm & Linda Lipson of Sarasota, Florida!
Another Beautiful Bordeaux Baby!
"Callie": A beautiful seal bicolor daughter of Justin and R-U-Redi; Lovingly owned by Carol Faunce of Jacksonville, FL!
Bordeaux LTD's Jolie Ti'Coquin', a seal bicolor boy lovingly owned by Shanne Bowie of Shreveport, LA; full litter brother to Champions Bar-B Doll, Chyna Doll and QP Doll out of Grand Champions Suzie Q and Risky Bizness!


These are some of my lynx and mitted babies (presently I don't do these patterns, as I am looking for a top quality lynx bicolor female myself; my lynx and mitted moms have retired from my breeding program):

Baby Crystal Blue lynx female
A Beautiful Bordeaux Ragdoll Baby!


lovingly owned by Jan and John Fifer in Florida.

Crystal Blue all grown up.

"Simba"
a seal mitted male

A Beautiful Bordeaux Ragdoll's Baby!

lovingly owned by Lynda Steffani and her family in Florida.

A Beautiful Bordeaux Baby!




TICA Grand Champion Bordeaux's Grady
(a seal lynx mitted male)

Grady is making babies in a Ragdoll Cattery in Buenos Aires, Argentina

"Bordeaux's Angel"
female seal lynx point mitted

Lovingly owned by Todd and Christy Casbon

| | |
| --- | --- |
| Angel, a seal lynx female (an April Charm daughter) and TICA Champion Dustin, Baby Sage's brother, a seal bicolor; Lovingly owned by the Smiths in Ft. Myers, Florida | |

| | |
| --- | --- |
| | Bozzy, a seal bicolor boy, lovingly owned by Michael and Patti Hafley in Dunedin, Florida |

Above: "Mitzy": A seal lynx mitted female; lovingly owned by Judy Winterhalter of Cape Cod!

All my kittens come with a written contract with a Five-Year genetic guarantee, as well as a Florida State Health Certificate.

Bordeaux Ragdolls

Elizabeth A. Thurman

Rocking Horse images, Title Logos & Button Graphics by Gerlinda.com